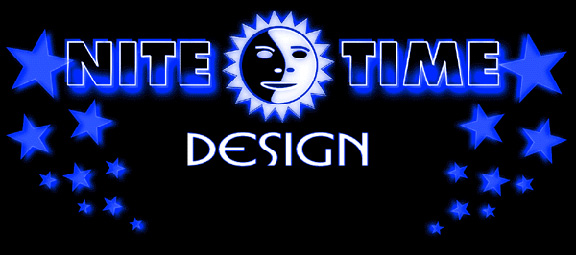 Welcome to the official online presence of Nite-Time Design. NTD is dedicated to quality design solutions, professional service and customer satisfaction.
Tour my site artwork. I have a number of pages of quality images for viewing.
There's a great deal to explore and discover, so take your time and enjoy the images at my ART PORTFOLIO section or go directly to my AD DESIGN pages to get a better idea of my commercial graphics work. I have a vast array of concert photographs at my PHOTOGRAPHY PAGE and for some added fun you can check out the designs at my CHILLER CONVENTION pages.

If you want to learn more about me personally go to my BACKGROUND page for a glimpse of the man behind the curtain. View My WEB LOG for recent and not-so-recent events.

Additional links on the side bar of this and all pages will allow you to navigate your way to any part of this site. Use the search box provided to locate a particular image. I am available for custom design work, photo retouching, and illustrations.

I'll be expanding this site in the future as the need allows. In the meantime, my novel GLACIER and my other books are available directly through Amazon. Thank you.

Our doubts are traitors,
And make us lose the
good we oft might win,
By fearing to attempt.
Shakespeare, Measure For Measure
Location:
New Jersey || USA

Contact me at:




contents © copyright Donald J. Gavron 2000 - 2018

This site was created by Nite-Time Design.